HOW DO I SIZE MYSELF FOR A FRAME?
There are several things to consider when determining the proper fitment of your Exo-Frame—body measurement and frame size. Our two exoskeleton frame systems accommodate 90% of the population's body size. Having the proper fitment ensures that the frame's performance and comfort are optimal.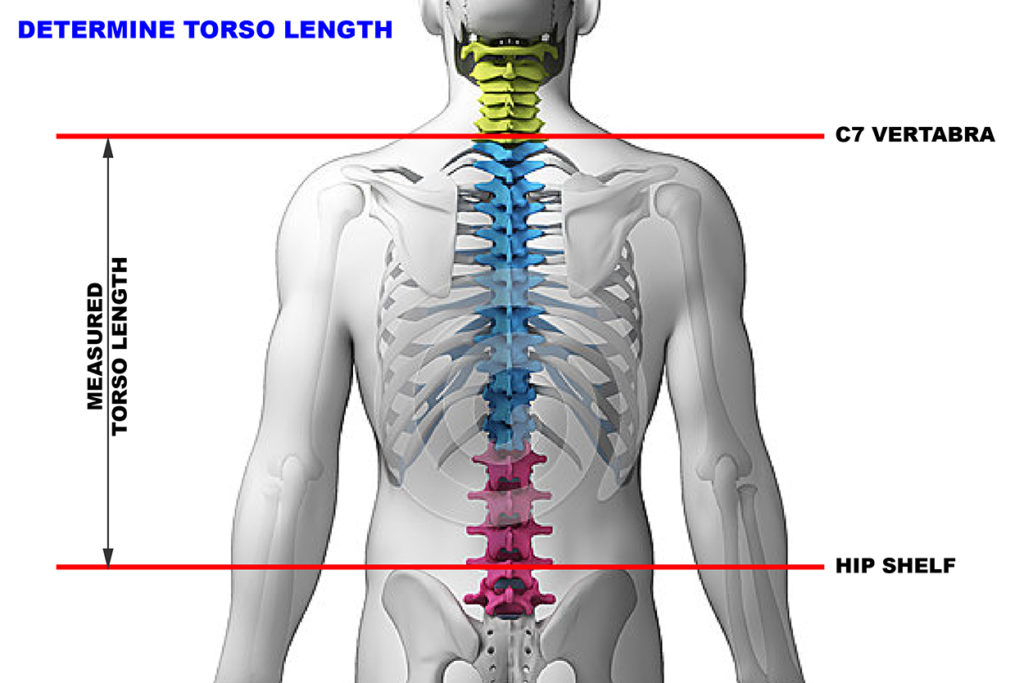 HOW DO I DETERMINE MY TORSO SIZE?
With your head tilted forward, measure along your back from the seventh vertebrae (the largest bump on the back of your neck) to a point on your lower back, which is horizontal with the top of your hipbones. The distance between these two points is your Torso Size.
WHICH FRAME SHOULD I SELECT?
Pack Rabbit's patented Exo-Frames are designed to deliver a more comfortable and efficient way to carry heavy weight. Choosing the correct frame that best fits your torso is very important. The purpose of selecting a frame that matches your torso is to ensure that the frame's lumbar support is properly aligned with your lumber. This will allow the contour of the frame to be correctly aligned with the contour of your spine, and provide comfortable and consistent support.

Generally speaking, the small Exo-Frame fits kids and small adults, while the large Exo-Frame fits everyone else.
| HEIGHT | WIDTH | DEPTH | WEIGHT |
| --- | --- | --- | --- |
| 19.5 in | 10.5 in | 8.5 in | 1.9 lb |
| 49.5 cm | 26.7 cm | 21.6 cm | 0.86 kg |
TORSO RANGE: 15.5-18.5 in / 39.4-47.0 cm
15.5 in / 39.4 cm
16.0 in / 40.6 cm
16.5 in / 41.9 cm
17.0 in / 43.2 cm
17.5 in / 44.5 cm
18.0 in / 45.7 cm
18.5 in / 47.0 cm
| HEIGHT | WIDTH | DEPTH | WEIGHT |
| --- | --- | --- | --- |
| 23.0 in | 12.5 in | 10.0 in | 4.1 lb |
| 58.4 cm | 31.8 cm | 24.4 cm | 1.86 kg |
TORSO RANGE: 18.0-23.0 in / 45.7-58.5 cm
18.0 in / 45.7 cm
18.7 in / 47.6 cm
19.5 in / 49.5 cm
20.0 in / 50.8 cm
20.5 in / 52.1 cm
21.0 in / 53.3 cm
23.0 in / 58.5 cm
WHERE DO I ATTACH MY SHOULDER STRAPS?
Each frame system has incremental shoulder harness attachment points that allow for variations in Torso Size. To determine the proper location, measure the equivalent distance of your torso length from the bottom of the pivoting lumbar to the harness' attachment points, located top-center of the frame. Choose points that most closely correspond to your measurement. Test and refine your placement based on personal comfort.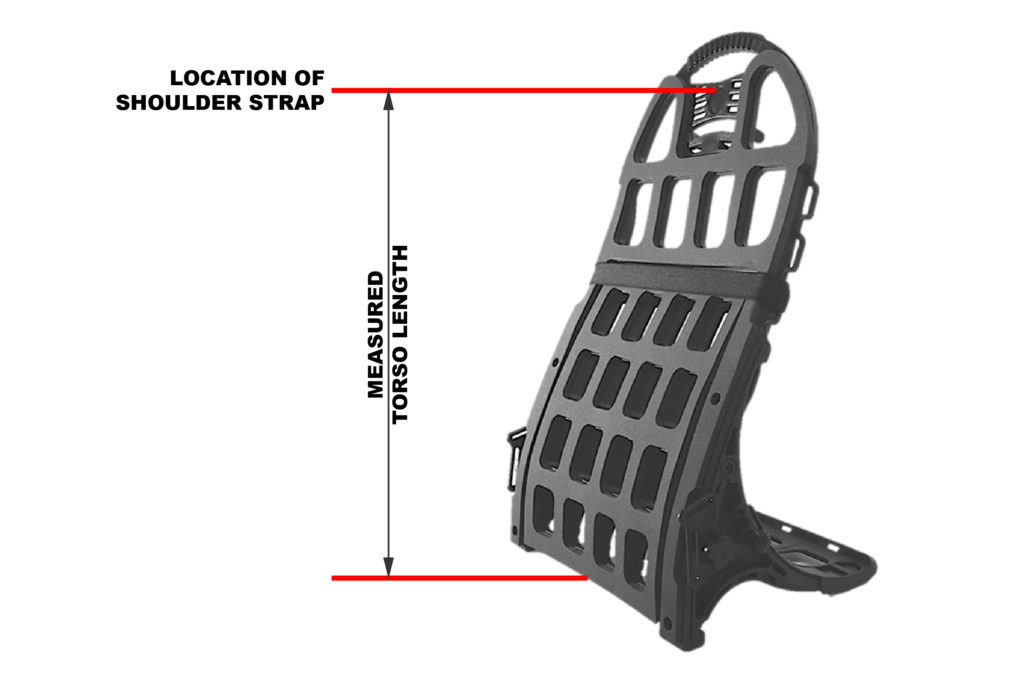 WHAT IS THE BEST SEQUENCE FOR DONNING MY PACK?
A properly sized and positioned pack will make all the difference between comfort and misery. Since we've worn hundreds of packs, in various terrain, with all levels of weight, we thought we'd pass on a few lessons learned.
Slightly loosen top load straps, shoulder straps, sternum strap, and hip belt. (It is so much easier to climb into your harness when you have room to move.)

Put your pack on and let it hang. Do not tighten straps just yet.

Bend slightly forward at the hips and hike the pack up until the position of the the exoskeleton's lumber support is aligned with your lumbar.

Buckle and tighten your hip belt.

Take 50% of the slack out of your shoulder straps, but do not fully tighten.

Slide your sternum strap up or down until it is positioned approximately 2 inches below your collarbone.

Connect your sternum strap and take up slack until the outer edge of your shoulder straps are clear of your arm pits (to maintain circulation). Do not over-tighten, as this can restrict breathing.

Stand upright and slowly tighten your shoulder straps until they are snug. Do not over-tighten.

Lastly, reach back and secure the tabs of your load lift straps and slowly tighten until the frame is fully aligned with your back.

Test your settings on short hikes and don't be afraid to make minor adjustments for comfort and personal preference.